Food Stamp Debit Cards Failing To Work In 17 States
While 17 states across the nation saw the EBT food stamp cards rendered useless for most of Saturday, shoppers in a Louisiana Walmart store emptied shelves, according to CBS News on Oct. 14. Walmart notified the Xerox Company about the glitch and they were told to let the registers keep ringing, and that they did. At one point the police needed to be called in as the frenzy of unlimited spending caused chaos. The police were called into at least two Walmart stores on Saturday in Louisiana to help maintain order as shoppers ran getting anything they could get their hands on as it was all free. The free-for-all ended as soon as Walmart announced to the stores shoppers that the EBT food stamp cards were back up and running correctly and showing accurate spending limits. In the wake of that announcement a sea of full shopping carts were abandoned down the aisles of Walmart. A police spokesperson said that no arrests were made during the unlimited spending frenzy. It is not known how the food stamp EBT program will handle all that food that was charged. People knew their limit, but as the glitch canceled out any limits for about two hours, many tried to cram in as much shopping as they possible could.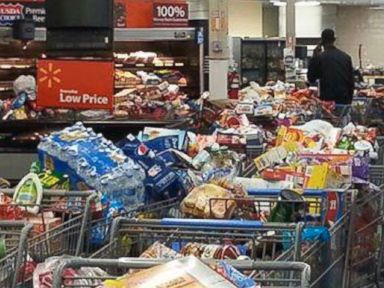 "I saw people drag out eight to ten grocery carts," Lynd said. One person hauled away more than $700 worth of groceries, the chief said. The Louisiana Department of Children and Family Services' spokesman Trey Williams said the retailers who chose not to use the emergency procedures that limit sales up to $50 per cardholder during an emergency would be responsible for any additional amount spent over eligible benefit balances. Courtesy KSLA.com Shelves in the Walmart store in Springhill, La., were cleared Saturday, when the store allowed purchases on EBT cards that didn't show limits. Following the policy clarification by the Louisiana Department of Children and Family Services, Walmart told ABCNews.com the incident was "isolated" and the company doesn't believe it had any material impact to its U.S. business. The shopping frenzy was triggered when the Electronic Benefits Transfer system went down because a back-up generator failed at 11 a.m. EST Saturday during a regularly-scheduled test, according to Xerox, a vendor for the EBT system and based in Norwalk, Conn. The bill could be a sizeable one for Walmart. Lynd said customers were "not unruly." There were no fights or arrests made, but the scene was still chaotic, he said. "It was definitely worse than Black Friday. It was worse than anything we had ever seen in this town," Lynd said of Springhill, which is near the border with Arkansas. "There was no food left on any of the shelves, and no meat left.
Colman, who receives the benefits, called an 800 telephone line for the program and it said the system was down due to maintenance, she said. "That's a problem. There are a lot of families who are not going to be able to feed children because the system is being maintenanced," Colman said. She planned to reach out to local officials. "You don't want children going hungry tonight because of stupidity," she said. Colman said the store manager promised her that he would honor the day's store flyer discounts next week. Wasmer said the states affected by the temporary outage also included Alabama, California, Georgia, Iowa, Illinois, Louisiana, Massachusetts, Maryland, Mississippi, New Jersey, Oklahoma, Pennsylvania, Texas and Virginia. Ohio's cash and food assistance card payment systems went down at 11 a.m., said Benjamin Johnson, a spokesman for the Ohio Department of Job and Family Services. Johnson said Xerox asked retailers to revert to a manual system, meaning customers could spend up to $50 until the system was restored. Illinois residents began reporting problems with their cards known as LINK in that state on Saturday morning, said Januari Smith, spokeswoman for the Illinois Department of Human Services. Smith said that typically when the cards aren't working retailers can call a backup phone number to find out how much money customers have available in their account. But that information also was unavailable because of the outage, so customers weren't able to use their cards. "It really is a bad situation but they are working to get it fixed as soon as possible," Smith said. In Clarksdale, Miss.